BEN HUR (1959) Blu-Ray BRAND NEW Free Shipping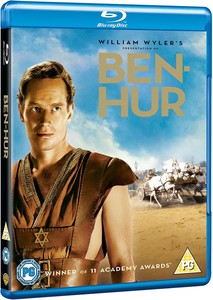 ---
Ben Hur on BLU-RAY

This 1959 version of Lew Wallace's best-selling novel, which had already seen screen versions in 1907 and 1926, went on to win 11 Academy Awards. Adapted by Karl Tunberg and a raft of uncredited writers including Gore Vidal and Maxwell Anderson, the film once more recounts the tale of Jewish prince Judah Ben-Hur (Charlton Heston), who lives in Judea with his family during the time that Jesus Christ was becoming known for his "radical" teachings. Ben-Hur's childhood friend Messala (Stephen Boyd) is now an ambitious Roman tribune; when Ben-Hur refuses to help Messala round up local dissidents on behalf of the emperor, Messala pounces on the first opportunity to exact revenge on his onetime friend. Tried on a trumped-up charge of attempting to kill the provincial governor (whose head was accidentally hit by a falling tile), Ben-Hur is condemned to the Roman galleys, while his mother (Martha Scott) and sister (Cathy O'Donnell) are imprisoned. But during a sea battle, Ben-Hur saves the life of commander Quintus Arrius (Jack Hawkins), who, in gratitude, adopts Ben-Hur as his son and gives him full control over his stable of racing horses. Ben-Hur never gives up trying to find his family or exact revenge on Messala. At crucial junctures in his life, he also crosses the path of Jesus, and each time he benefits from it. The highlight of the film's 212 minutes is its now-legendary chariot race, staged largely by stunt expert Yakima Canutt. Ben-Hur's Oscar haul included Best Picture, Best Director for the legendary William Wyler, Best Actor for Heston, and Best Supporting Actor for Welsh actor Hugh Griffith as an Arab sheik.This item is an import from the United Kingdom (England).  All of the content is the same as broadcast in the USA.  

Item Condition

BRAND NEW and SEALED.

Disc Format

Blu-Ray

Does it Include DVDs or Digital Copies?

No

Compatibility/Region Code

This item is Region A/B/C compatible (also known as REGION FREE).  This means it will play on any blu-ray player in the world.

Playback Restrictions

none

Languages

Audio:  English, French, Spanish, Portuguese, German, Italian, Czech, Polish, Hungarian

Subtitles:  English SDH, French, Portuguese, Spanish, Croatian, Czech, Danish, Dutch, Finnish, German, Greek, Hebrew, Hungarian, Icelandic, Italian, Korean, Polish, Norwegian, Swedish, Thai, Romanian

Payment

 Major credit cards accepted as well as Paypal (credit cards are processed through Paypal).  Unfortunately we are not able to accept any other form of payment.

Shipping Options within USA

FREE Standard Shipping:  USPS First Class Mail (includes tracking number).  This typically takes 2 to 5 business days.

Priority Shipping:  add $4 for USPS Priority Mail (includes tracking number).  This typically takes 2 to 3 business days.

Shipping Address

We ship to the address that you have on file with .  If you provide us the wrong address, it will probably not reach you and will be returned to us.  If this happens and you'd like the item to be reshipped, we'll invoice you for the exact USPS cost to reship the item.

When Will My Item Ship?

Your item will ship the next business day.  In some instances of early morning purchases, we're able to ship your item the same day.  If you purchase an item on Saturday or Sunday, it will ship on Monday.  Please note that Sundays and Federal Holidays are NOT considered business days.

When a shipping label is printed, will send you an email letting you know the tracking number.

What If I Have An Issue?

Please contact us!  We are here to help you with any issues that you have.  We can't fix a problem if you don't contact us (our mindreading skills are terrible).

Return Policy

If the item is damaged in transit, is defective or if we sent the wrong item, it may be returned at OUR expense.  Simply use 's item return functionality to request a return.  We'll send you a return postage label and we'll get you a replacement or refund once we receive the item back.

If you change your mind and don't want the item, you may return it if it is UNOPENED only.  Simply use 's item return functionality and follow the instructions on the screen.  We'll issue a refund once we receive the item back. 

If you have any questions about our return policy, please contact us.